Sea Glass From Scotland - 'The Seaglassjournal' Feature
Posted by Nicole Lind on
Scottish Sea Glass
Cupar, Scotland resident collects old sea glass bottle shards with local history
Nicole Lind collects sea glass on the beaches around the Kingdom of Fife and the Edinburgh area of Scotland. Along with smaller shards that she makes into jewelry, she also finds bottle segments that appear to be very old. The Journal asked her if she had any background information on these bottle shards.
Nicole Lind:
I collect most of them (bottle segments) after storms that have brought them to the surface. The frosting on these pieces can be very light due to them being buried in the sand for such a long time. They are thick, mainly green—very few brown or clear—and some may show signs of recent breakage.
On location in St. Andrews where Nicole collects her sea glass a castle ruin from the 13th century overlooks the Estuary towards the North Sea. We can imagine that some of the bottle shards have been tumbling in the Sea since Victorian times or longer.
Scotland had over 280 breweries in 1840, but over the years these numbers declined due to closures and merges to a mere 36 breweries in 1940. Edinburgh, Glasgow and Alloa are to date the few areas where one can still find functioning beer breweries in Scotland.
| | | |
| --- | --- | --- |
| | I collect most of them (bottle segments) after storms... | |
The Kingdom of Fife and the St. Andrews-Guardbridge area, at the Eden Estuary that leads into the North Sea, were famous for the Haig Whisky, beer and ale production. The last brewery in St. Andrews closed in 1902.
Some of the bottles have embossing which may include St. Andrews and Cupar, while others have the word "Gallon" on the bottom. Most are very thick and have enclosed air bubbles—all signs of being hand made over 100 years ago!
Nicole lives in Cupar, Scotland and along with collecting sea glass has recently started to design jewelry which she sells in her Etsy store TiliabytheSea.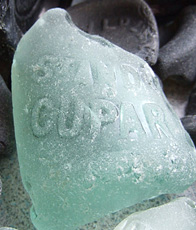 A bottle shard containing the embossing Cupar, an area near Nicole's hunting grounds.
ORIGINALLY PUBLISHED ON 'THE SEA GLASS JOURNAL' - with many thanks to Gary de Blois
http://www.seaglassjournal.com/articles/scotland/scotland.htm
---
Share this post
---
---
0 comment